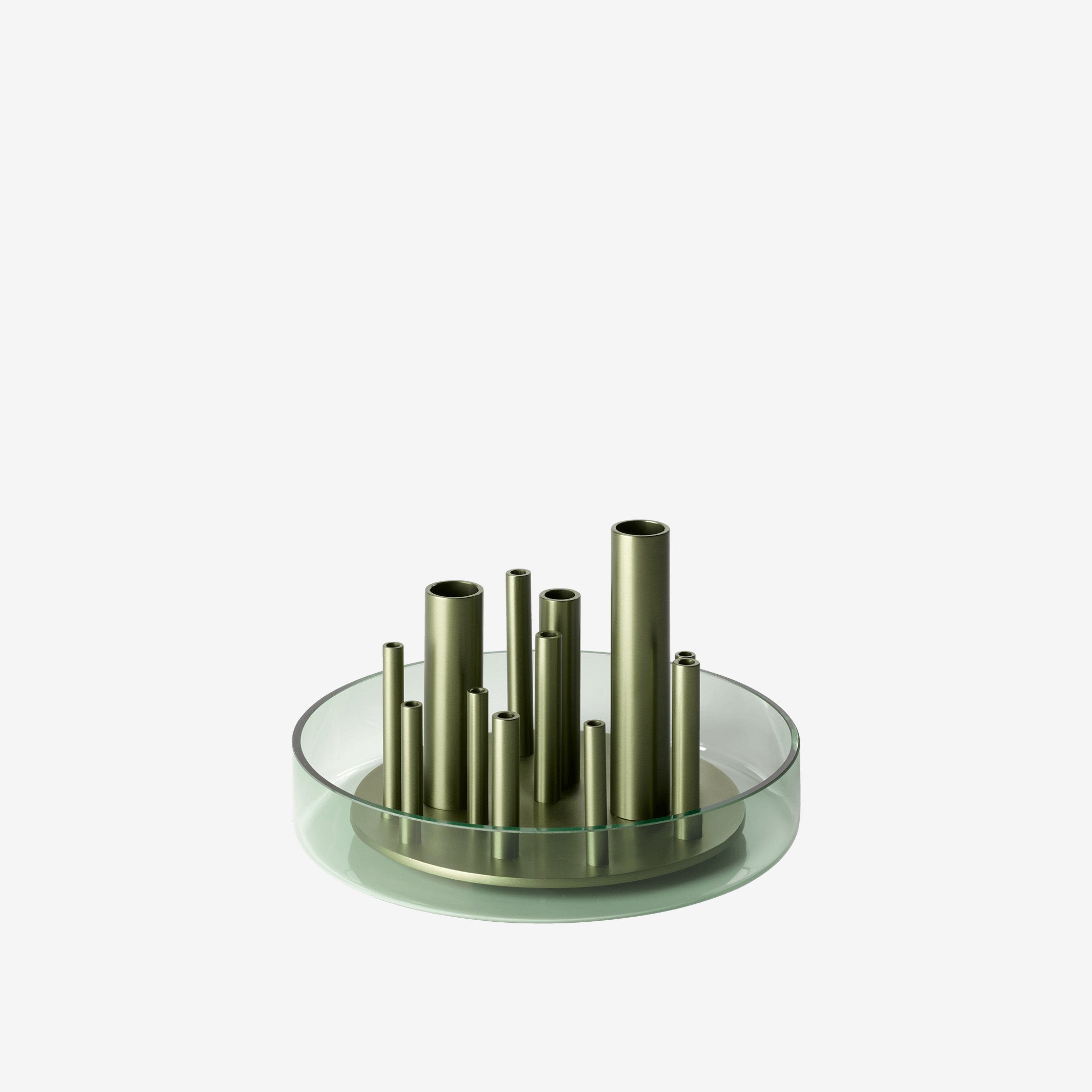 Art in Bloom - Ikeru Vase Low
Product Details
The most beautiful way to honour every bloom, from stem to crown, is through an artful arrangement – and our Art-in-Bloom bundle is the perfect celebration of just that. Paying ode to minimal design codes and intentional placement, it features a highly curated number of fresh and harmonious stems, which pairs with the Ikeru Vase Low, crafted by history-rich Danish design firm Fritz Hansen. Metal flutes hold individual flowers for a full appreciation of every flower from many angles. Water in the glass tray below keeps arrangements fresh. Finesse your very own floral masterpiece at home and enjoy the art of arranging.
Includes The Ikeru Vase Low by Fritz Hansen and flowers handpicked by our florist
Vase measures 19cm in diameter and 13.1cm in height
Materials: Glass and Brass
Care instructions: Use lukewarm water and wipe with a clean, soft cloth. Clean with dish detergent as the occasion requires. Never use abrasives or sharp-edged tools to remove chalk stains. Do not dishwash and polish. Do not use steel wool or any rough surfaces to clean.
*Please note flowers will come in loose bundle for you to enjoy the art of arranging. Photo shown here for representation purpose only. Ingredients will vary according to seasonality.
  Discover more from Fritz Hansen
Deliver in 2 - 3 business days
Due to seasonal availabilities, some flowers may be substituted for a flower of equal beauty, quality and price.
Vase in the image is for reference only. If the vase becomes unavailable, we might substitute for a vase in similar style.
Orders & Delivery
Delivery: Deliver in 2 - 3 business days
Daily order cut-off time: Noon. All orders placed after noon will be processed the next business day. Deliveries can be either scheduled daily in the morning from 11am to 2pm or in the afternoon from 2pm to 7pm.

If a specific delivery date and time is required, please contact us before placing your order to ensure we can accommodate your request. Additional charges may apply.
Delivery Cost
Flower delivery fee varies across different districts:
Hong Kong Island - $120
Kowloon - $180
New Territories - $250

You may also choose to pick up in one of Our Boutiques for free. Please refer to our Delivery Policy for more details. For delivery to locations that are not listed, please contact us to discuss individual delivery schedule and charges. Or we might contact you after you placed your order.
International delivery for flowers is not available.