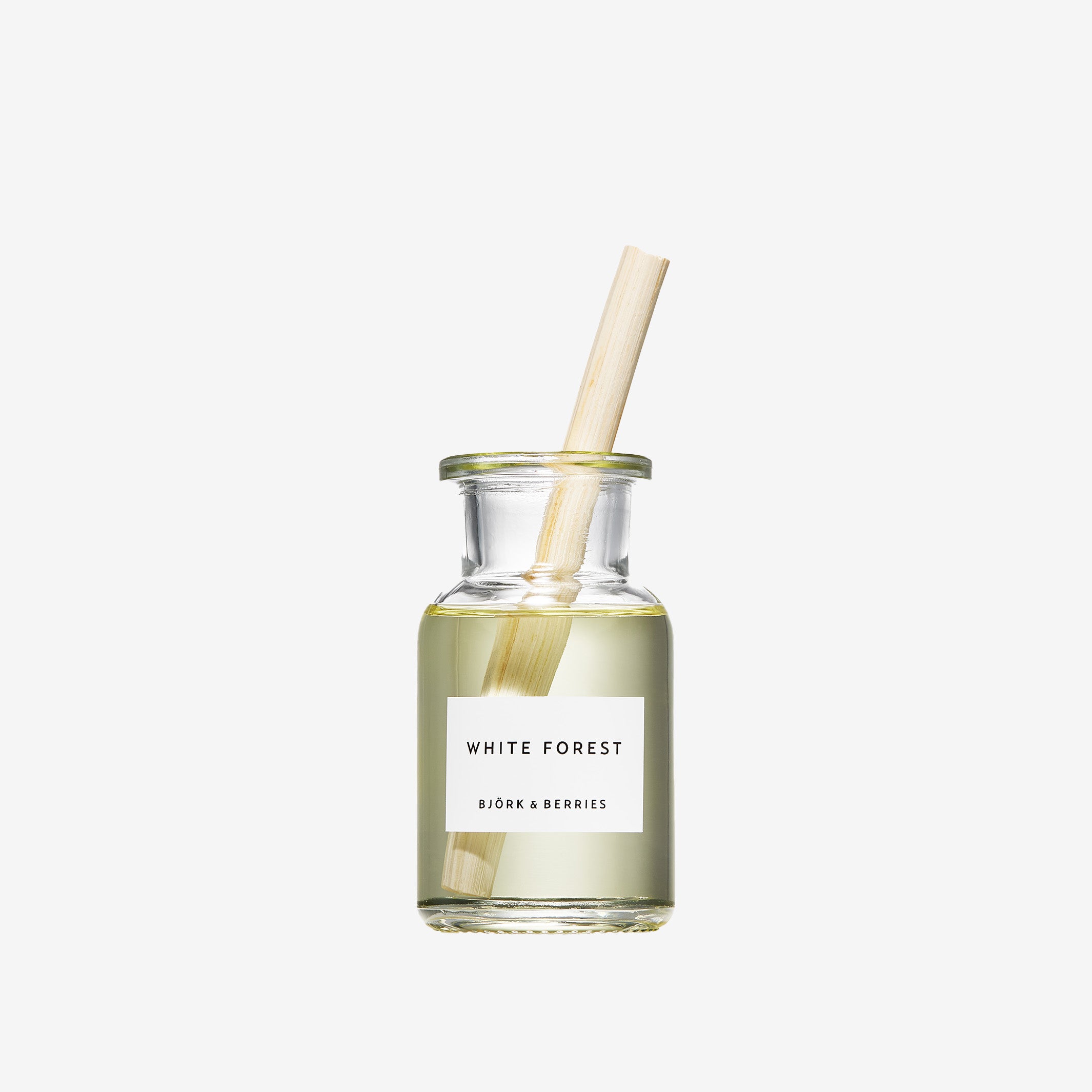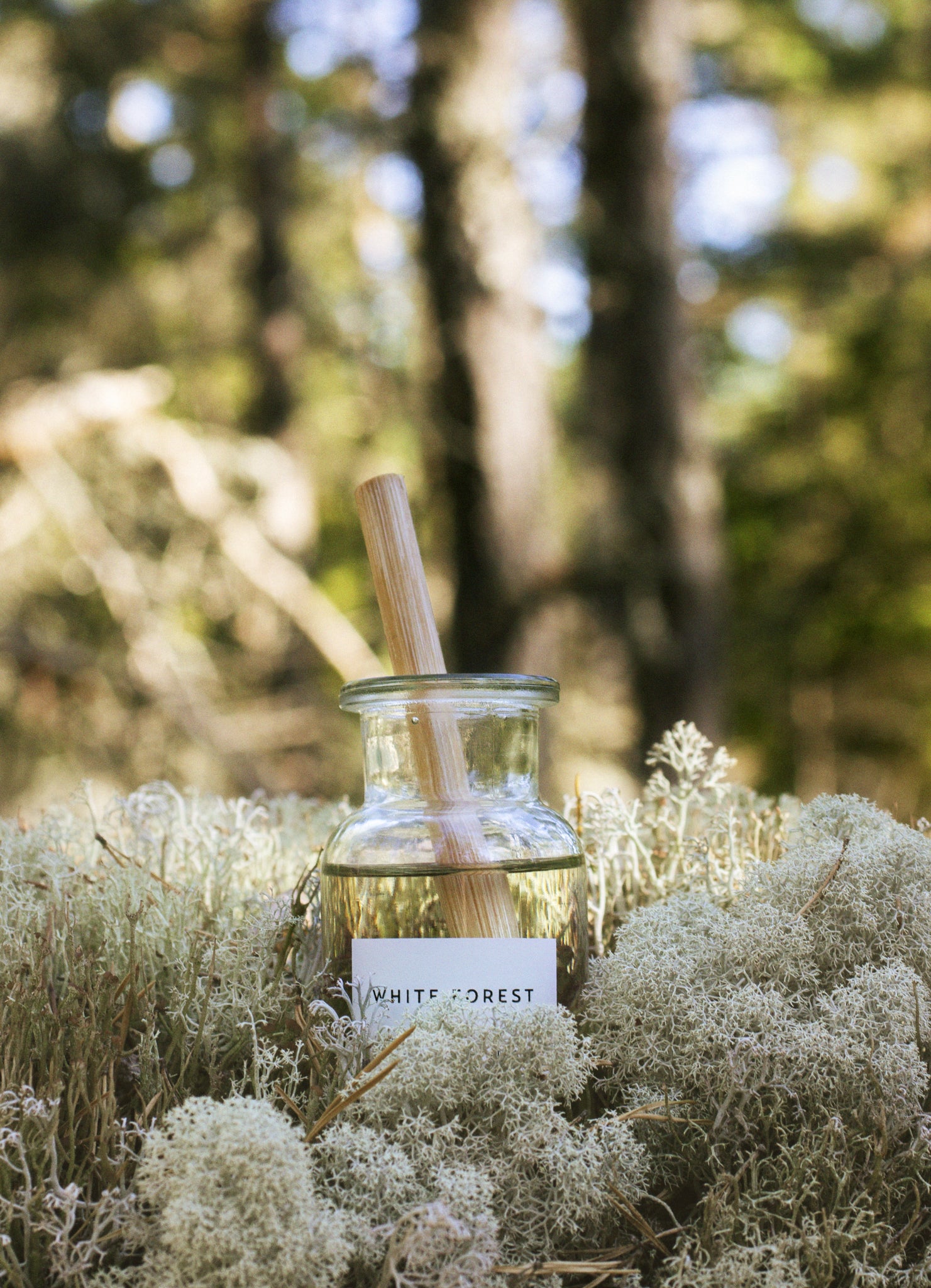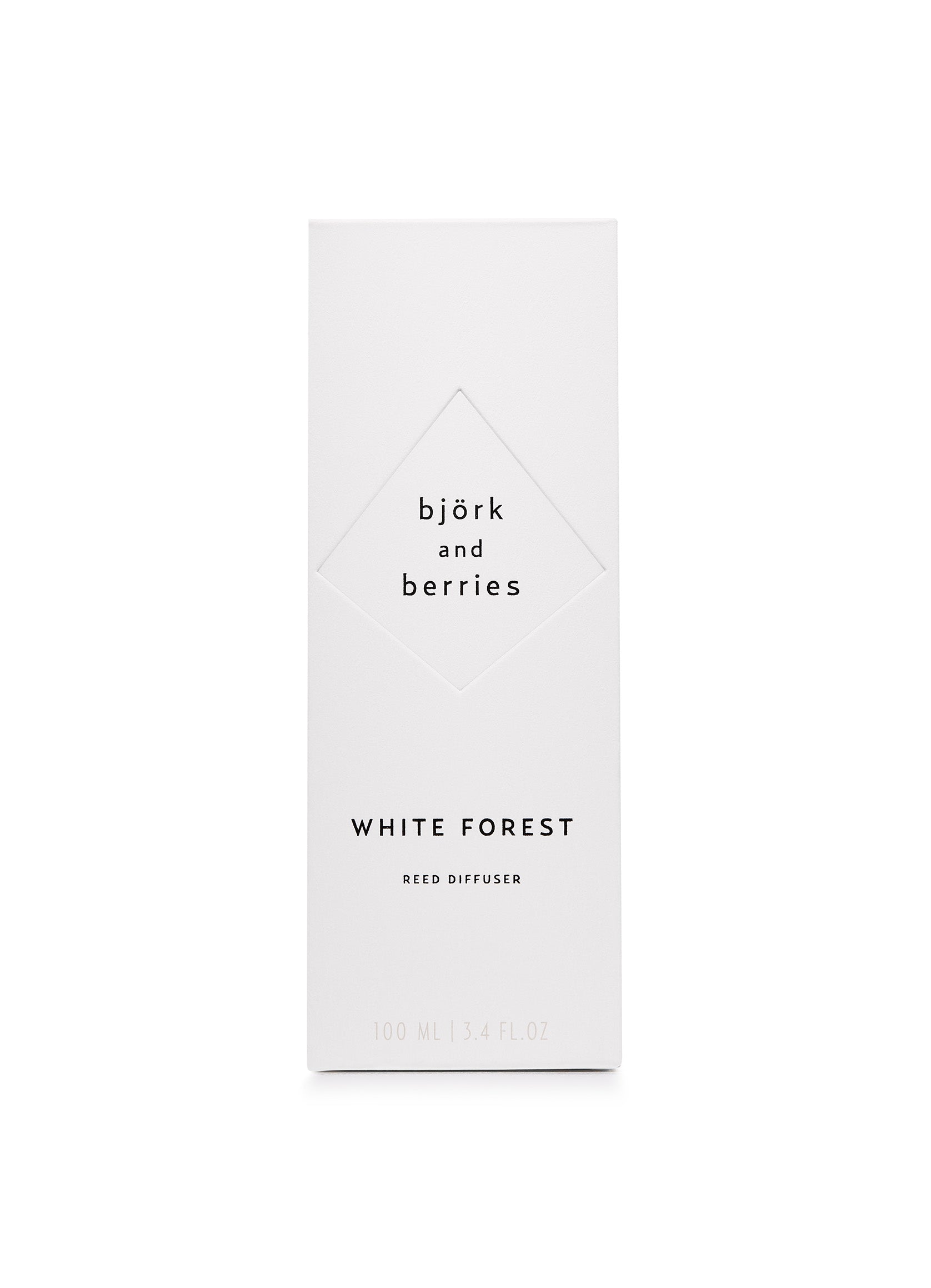 White Forest - Reed Diffuser
Product Details
This Reed Diffuser is crafted with a unique blend of natural and synthetic fragrance notes for a long-lasting and personal perfume performance. By blending the natural and synthetic notes, Björk and Berries created a unique sensation with free interpretation. This scented reed diffuser is made in Grasse, France with an alcohol-free blend,  to fragrance your home with refreshing aromas of bergamot, tonka bean and cashmere.
White Forest is an homage to the ever-present inspiration – the deep Swedish woods. Aromatic and woody, this fragrance translates both the serene presence and the mysterious aura that epitomises the heart of the Nordic nature. Its reviving yet indefinable character awakens your senses and brings you straight to a long- lost forest of white birch and green pine.
The composition is like a breath of fresh forest air. It captures the best of what nature has to offer, starting with the fruity and bittersweet nuances of black currant and lemon, carefully combined with wondrous violet and orchid. Together with earthy vetiver and the intoxicating powdery-sweetness of Tonka beans, this fragrance carries the soul of the Swedish woods.

Discover more from Björk and Berries
Ellermann Says
- Scent Notes: Top: Bergamot, Cassis, Lemon, Cinnamon; Heart: Violet, Orchid, Tonka Bean; Base: Vetiver, Cashmere Woods
- Natural ingredients
- 100% alcohol free
- 100ml
- Vegan
- Ecoluxury
- Made in Grasse, France
About Björk and Berries
Björk and Berries is a Swedish beauty and wellness brand devoted to the scents, ingredients, and slow beauty practices central to the Scandinavian way of life. All of their products have been dermatologically tested and made with a minimum of 95% natural ingredients, many of which are harvested from the organic mountain gardens of the founder's family farm in Sweden, such as birch, beech, oat, twinflower, and sea buckthorn. Fragrances are housed in fully recyclable glass packaging, while hand creams with 100% recycled bottles. Björk and Berries seeks to produce maximal effect with minimal ingredients, producing a conscious line of wellness that honors their homeland's forests.
Deliver in 2-3 business days.
Delivery Options
Standard Delivery $80
Our delivery service for hardgoods is available within 2 business days with our own courier. Deliveries are scheduled either between 11am and 2pm, or between 2pm and 7pm.
Free Pick Up At Store
All hardgoods are available to be picked up at Wong Chuk Hang Atelier, flower boutiques at Landmark and Pacific Place after 1 business day of order confirmation.
Express Delivery
If an express delivery or a specific delivery time is required, please contact us before placing your order to ensure we can accommodate your request. Additional charges may apply.