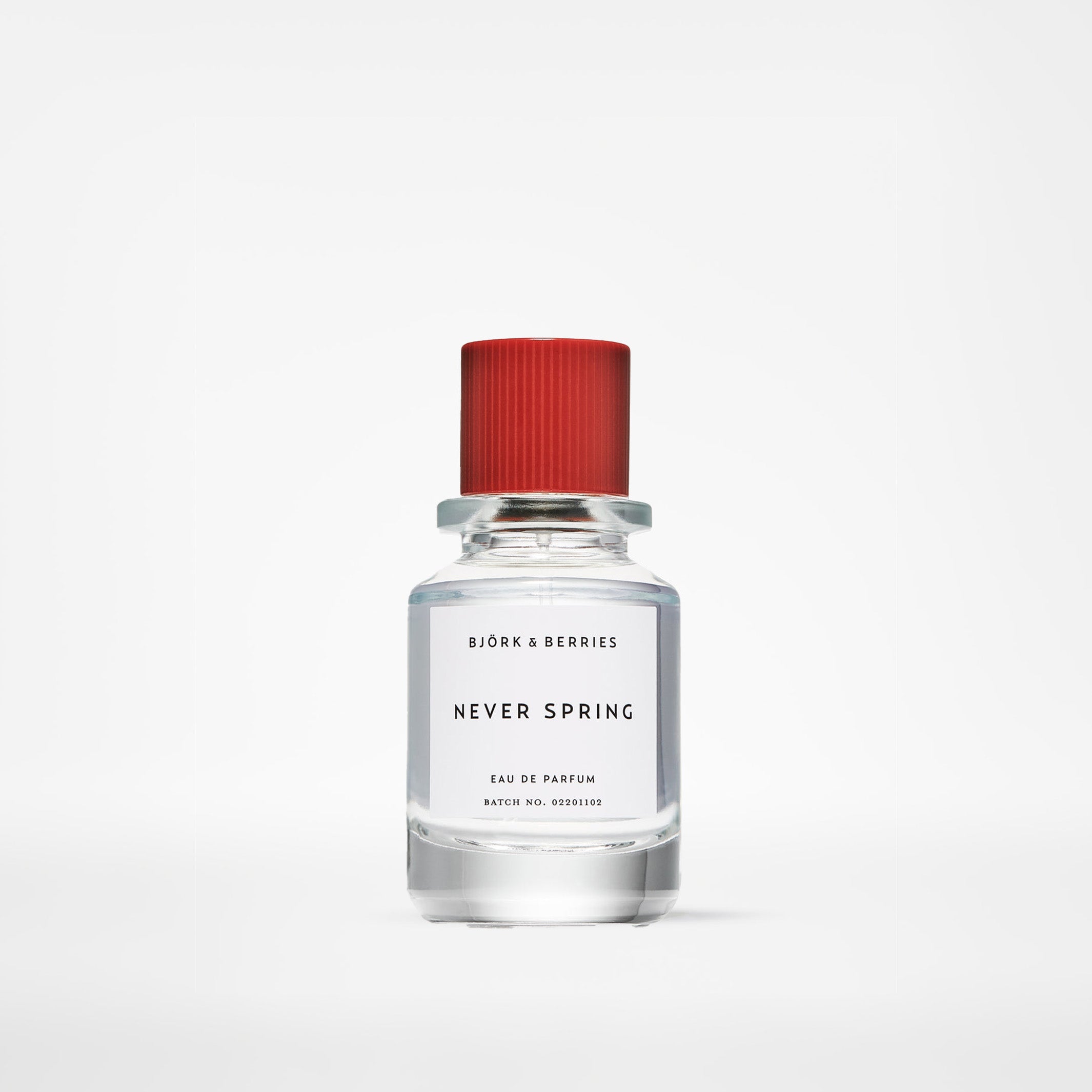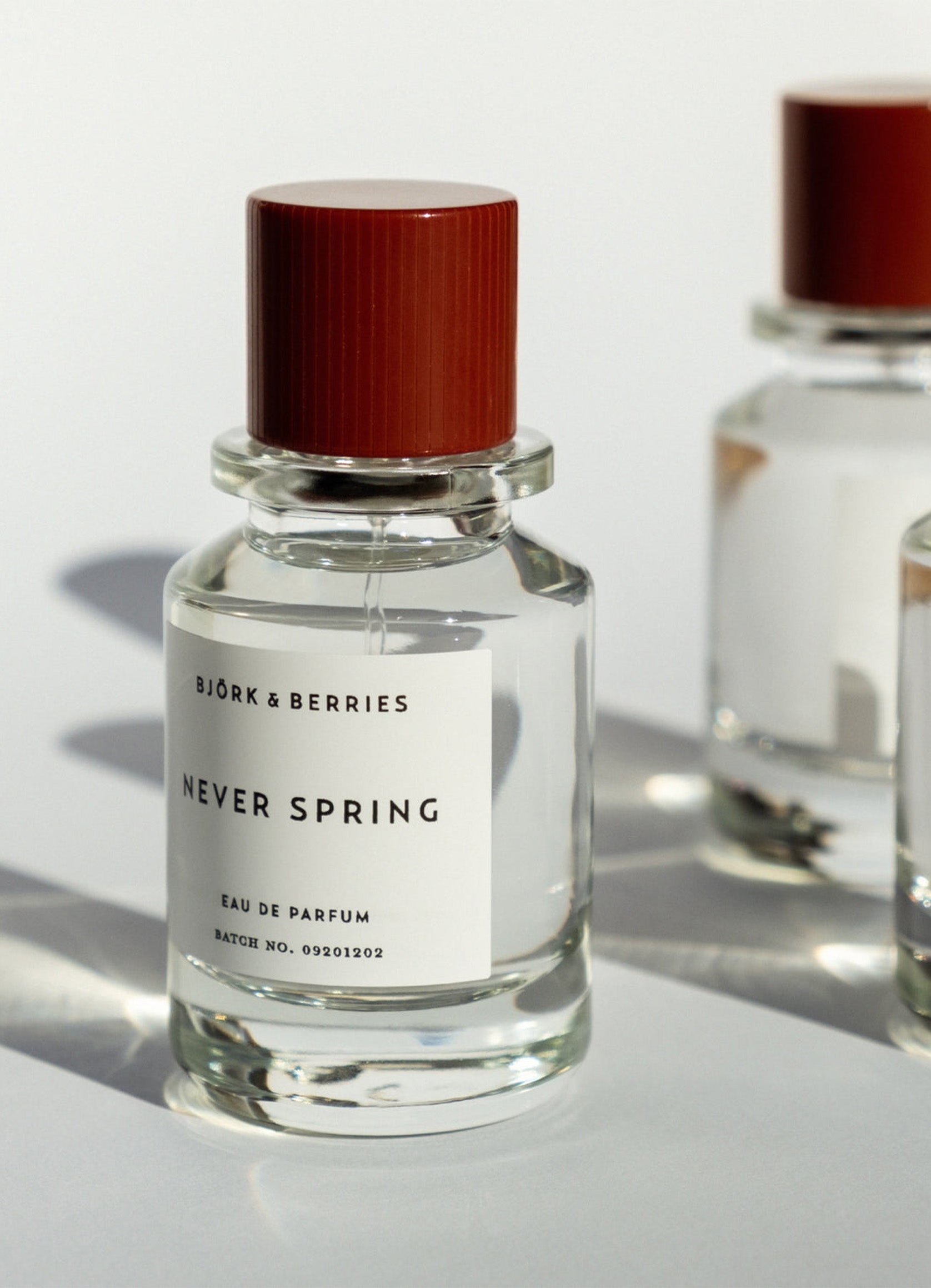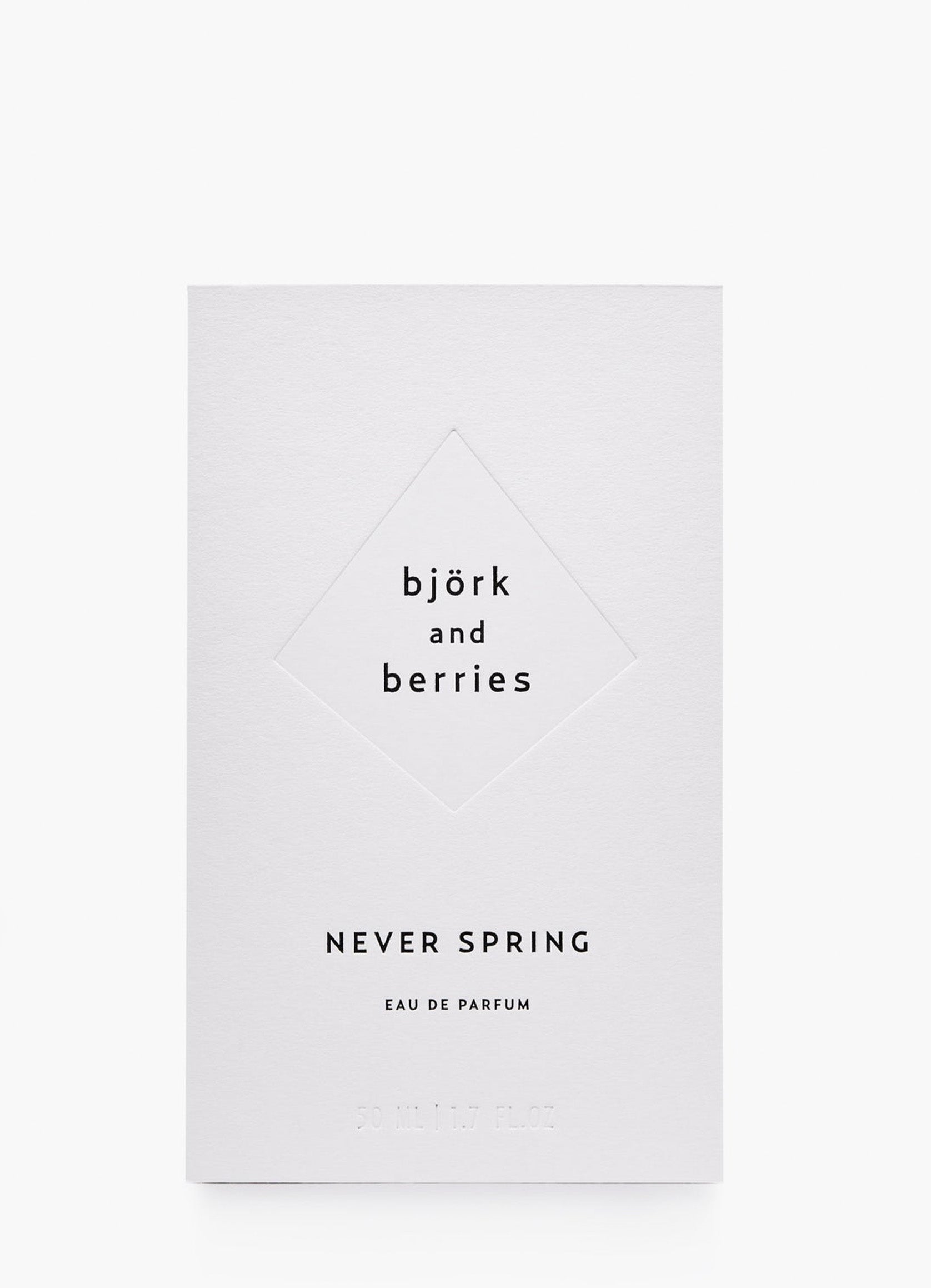 Never Spring - Eau de Parfum
Product Details
Björk and Berries's scent collection is inspired by Sweden's volatile seasons and the uniqueness of their  nature. Cultural, natural and mythical wonders are interpreted into refined scent experiences. This perfume is made from organic fermented alcohol and the finest natural and synthetic perfume oils.


Never Spring is inspired by a longing for spring that never seems to arrive. A green and crisp scent with notes of lemon and cedarwood, capturing our long wait for this awakening season from the first signs of spring until nature turns into intensive bloom.

The scent opens up with sweet blackberry, gentle and ripe citruses in pleasing contrast with cold, green notes like a crisp morning in spring. It is a woody scent with base notes of cedarwood and soft musk combined with deep amber.

Discover more from Björk and Berries
Ellermann Says
- Scent Notes: Top: Lemon, Blackberry, Peach; Heart: Jasmine, Cyclamen, Bamboo; Base: Musk, Cedarwood, Amber
- 98.9% Natural ingredients
- 71% Certified Organic Ingredients
- 84% Ingredients from natural origin
- Made of Organic Fermented Alcohol
- 50ml
- Vegan
- Ecoluxury
- Made in Sweden
- Due to the high amount of natural and organic ingredients, colour and scent may vary over time as part of the natural ageing process. Avoid direct sunlight and high temperature.
About Björk and Berries
Björk and Berries is a Swedish beauty and wellness brand devoted to the scents, ingredients, and slow beauty practices central to the Scandinavian way of life. All of their products have been dermatologically tested and made with a minimum of 95% natural ingredients, many of which are harvested from the organic mountain gardens of the founder's family farm in Sweden, such as birch, beech, oat, twinflower, and sea buckthorn. Fragrances are housed in fully recyclable glass packaging, while hand creams with 100% recycled bottles. Björk and Berries seeks to produce maximal effect with minimal ingredients, producing a conscious line of wellness that honors their homeland's forests.
Deliver in 2-3 business days.
Delivery Options
Standard Delivery $80
Our delivery service for hardgoods is available within 2 business days with our own courier. Deliveries are scheduled either between 11am and 2pm, or between 2pm and 7pm.
Free Pick Up At Store
All hardgoods are available to be picked up at Wong Chuk Hang Atelier, flower boutiques at Landmark and Pacific Place after 1 business day of order confirmation.
Express Delivery
If an express delivery or a specific delivery time is required, please contact us before placing your order to ensure we can accommodate your request. Additional charges may apply.